Myopia is the technical term for nearsighted. A person can see up close, but not clearly at a distance.
Currently we are in the middle of a myopia epidemic. Children are becoming more and more nearsighted. In the last 20 years, the prevalence of myopia has increased from 21% to 46% of all U.S. adults. High myopia has social, emotional, financial, and health consequences.
Social: Children can be very prejudiced about their peers. If a child looks different they may be shunned. Children with thick glasses are often picked last for sport activities and friendship cliques. This can have a big effect on their socialization skills.
Emotional: When a child is different (such as wearing thick glasses), they are often ridiculed or bullied.
Financial: Later in life when applying for jobs, a person with very thick glasses may not get the same consideration as some employers may judge on appearance.
Health: When the eye becomes more nearsighted, the retina stretches. This can put the child at risk for future detached retina, retinal degeneration, macular holes, and glaucoma. These retinal diseases can result in blindness.
Why is this happening?
Genetics: Genetics plays a big role. If your parents are nearsighted, you will probably be nearsighted, too.
Behavior: Kids are glued to their smartphone and computers. They get very little outdoor time. This visual demand is contributing to increasing myopia.
Glasses and soft lenses: The nature of how a spectacle or standard soft lens focuses light on the retina, actually causes the eye to lengthen (increasing their myopia).
Eye muscle control: Some kids have eye muscles that put stress on their vision. This can contribute to worsening myopia
What can I do as a parent?
Behavior Change: Dr. Cauchi and Peters can design a program to teach your child how to keep their eyes from getting worse and worse. How can we get my child to see and not make their eyes worse? OrthoK lenses are the best for controlling myopia. We also fit myopia controlling soft lenses. These are different than standard soft lenses that don't control as well as orthoK lenses, but they are much better than standard soft lenses or glasses.
Glasses or standard soft lenses will make the eye get worse more quickly than if they didn't wear any correction at all.
Where do we start?
Call to schedule an appointment with us for a myopia control examination. We will evaluate your child's particular situation and needs, then design a program to stop or slow down this progressive disease.
Myopia Management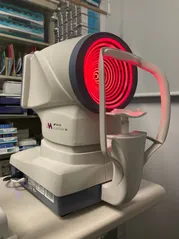 Vision Solutions Optometry takes the development of childhood myopia seriously. Children are becoming progressively myopic at an alarming rate over the past 20 years. Due to this problem, we have purchased a new instrument that can take a measurement of the axial length of an eye (the length from front to back) on any patient, especially children. The Aladdin-M instrument is capable of measuring the length of each eyeball and tracking this length over time. If the eyeball is abnormally elongating there is a strong risk of developing myopia each year. Every child seen for a comprehensive eye examination has their eyes tested on the Aladdin-M machine to monitor for this progression.